10 Top Tips on using Advent Candles in your Church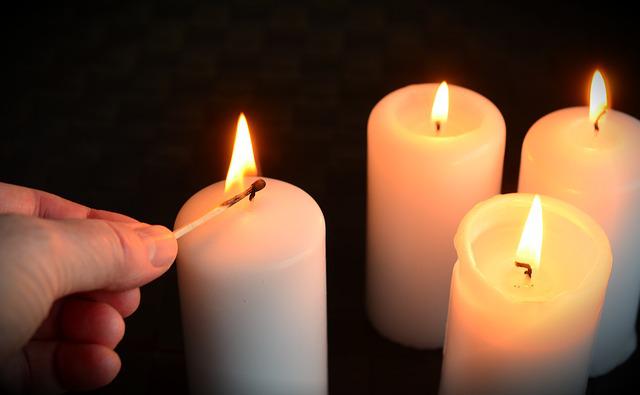 Advent candles are an integral part of preparing for and celebrating Christmas. These candles represent different seasons in the advent calendar, which provide a visual reminder of the birth, ministry, death and resurrection of Christ. From 1-24 December, you will use them everyday to prepare for Christmas, with the last advent candle lit on Christmas Day. This blog describes the history and ideas to help you use them in your church.
1. Advent candle tradition
These beautiful advent candles date back to early Christianity, when the first Christmas advent candles were used. These candles were lit each day from December 1st to December 24th, and people would pray for the birth of Christ. Today, many churches use Advent candles to prepare for Christmas. You can also use these candles as a tool for spiritual growth and reflection if your church does not have any other activities planned during this season.
The use of an Advent candle is a tradition practised for hundreds of years. It can be traced back to the early church, which used the candles to keep track of time before the invention of clocks.
The practice also reminds us that Christmas will come again every year.
2. Use a church candle holder that can display multiple candles of advent.
The holder should be placed near the front of your church, so everyone can easily see it. You may also want to place a sign next to it that explains what an Advent candle is and why you are using them in your church.
Advent candle holders are usually known as the "advent candle wreath", "4-Candle Advent Wreath", "advent wreath 5 candles" or the "Liturgical Wreath."
They are made from metal and can be found in most church supplies stores. The advent wreath candle holder displays 4 advent candles or five, one for each week of Advent. The candles of advent are lit on the first Sunday of Advent and remain lit until Christmas Eve, when they are extinguished in preparation for Midnight Mass.
Display the candles in an area of your church where they will be prominent and easily seen.
This can be anywhere from the front of the church to behind the altar.
These liturgical candles can be placed on an altar or table near the front of the room during Advent.
The candles should be displayed in order, one for each Sunday of Advent. You can also choose to put them in the centre of your church, where they will be seen by all.
The candles in an advent candle wreath are usually purple candles, pink, white and possibly red, although you can use any colours that fit your church's theme.
If you have more than one colour available, try mixing them together for a more interesting look.
The Christmas season is a joyful time of year. Many churches choose to use Advent candles in their church to celebrate Advent and prepare for Christmas.
3. In what order are advent candles lit?
The candles are lit in a specific order, one for each Sunday of Advent. These candles are usually placed in front of the congregation as they sing hymns and listen to scripture readings.
The first candle is lit on the first Sunday of Advent, but only after Mass has begun. The second candle is lit on the second Sunday, and so on until Christmas Eve, when all four or five Advent candles are lit together.
4. Educate your congregation about the meaning behind the advent candles, so they can get more out of the service.
In addition to lighting the candles, the priest will also hold a service in which he reads passages from scripture and leads the congregation in prayer. This is often done by reading from a book of Advent readings, which contains several parts of scripture that correspond with each Sunday's theme.
The lighting of the candles is a way to mark the passage of time, and it's especially important during Advent
5. What is the advent candles meaning?
The first candle represents hope;

The second candle represents peace;

The third candle represents joy;

The fourth or fifth candle represents love.

These are also themes that will be explored in your church's Bible study throughout Advent.

6. Use any additional space to create an advent display in your church

This can be as simple as a table with an Advent calendar, or more elaborate with an entire Nativity scene in your church lobby.
You can create a simple table with a white cloth and place several candles on it, or hang an advent banner across the back of the pulpit that reads "Advent" in gold glitter letters. , which will help you keep the focus on the season.
You can create an advent calendar, or you can use small objects like pinecones or wrapped gifts that represent each of the four themes. that will be visible to the congregation.
This could include a collection of candles or other symbols representing each week's theme, as well as pictures of the birth of Jesus and his life.
This is a great way to keep in touch with your parishioners, let them know the date, time and how long the service will last. You can also include a schedule for your advent activities, including when you will be lighting the candles.
You can use this event to reach out to new families in your congregation and welcome them with an invitation card or email that includes information about what they can expect during each week of Advent.
8. What advent candle colours should we use in our church?
Week 1: Purple Candle (Purple is traditionally associated with penitence)
Week 2: Purple Candle (Purple or Gold is traditionally associated with glory or triumph)
Week 3: Pink Candle  (Pink is traditionally associated with joy)
Week 4 : White Candle (White is traditionally associated with purity) Placed in the middle of the wreath
Or Red Candle (Red is traditionally associated with love and sacrifice)
Don't forget to extinguish your advent candles after each service!
9. Advent is an exciting time of year for your congregation, and you want everyone to participate, so make sure these tips are followed!
- Light candles before your sermon
- Extinguish candles after each service
- Make sure there is enough room for the candle to burn safely (advent candle holders come in handy!)
- You can also use this time to plan upcoming services and events. If you want to participate in the Christmas festivities, contact your community and invite them over!
10. Where to buy advent candles
So, you're keen to use advent candles this year, which is great! We hope you've found these first ten tips useful. Unlike many Christmas decorations on the market, advent candles are used throughout the season. So try and keep that in mind when deciding where to place yours in your church.
We are Vanpoulles of Liverpool and church suppliers with a wide range of church supplies and decorations.
We have been supplying churches for many years, and we are proud to be one of the leading suppliers in the UK.
Our aim is to provide high quality products at affordable prices. Contact us today here for everything advent and let us help you with all of your church supplies for the coming festive season.