Welcome to Vanpoulles Church Furnishers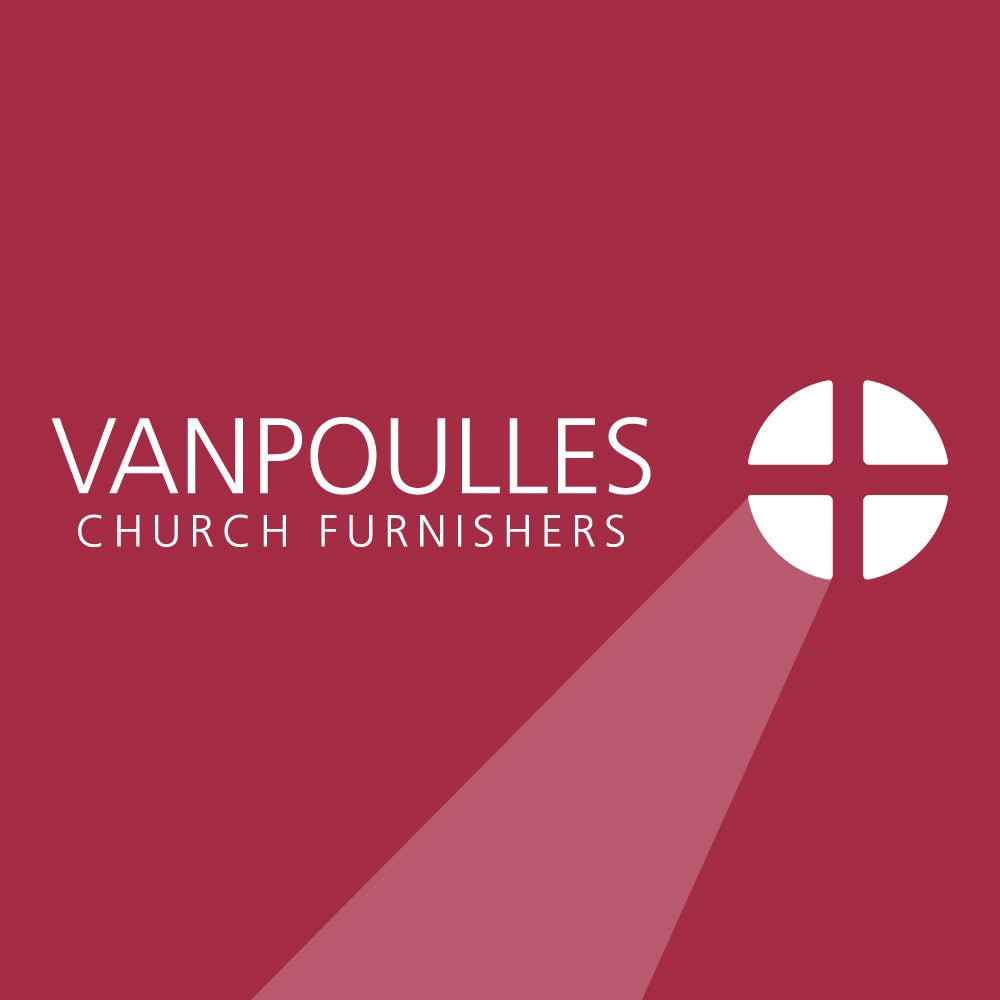 Welcome to Vanpoulles Church Furnishers –
Vanpoulles Limited is a long established family business, founded in 1908 to supply the Church with all types of ecclesiastical requisites. We have over 100 years experience in supplying quality Church furnishings and supplies across all denominations.
Vanpoulles offer a comprehensive range of goods and services to the Church including:
Candles & Consumables
Altar Candles, Unbleached Candles, Sanctuary Lights, Votive Candles & Lights, Processional & Vigil Candles, Fluted Candles, Advent Candles, Paschal Candles & Transfers, Wax Reliefs, Lenten Candles, Incense Grains, Baptismal Candles, Wedding Candles, Candle Accessories, Nylon Oil Candles, Candle Oil, Altar Wine including Freetrade Wine, Incense & Charcoal, Communion Wafers, Palm Leaves, Palm Crosses, Palm Branches.
Vestments & Textile Items
Chasubles, Dalmatics, Copes, Stoles, Albs, Cottas, Surplices, Cassocks, Choir Gowns, Clerical Shirts, Altar & Lectern Hangings, Altar Cloths, Banners, Fabrics & Trimmings, Braids & Orphreys.
Church Furnishings
Chalices & Ciboria, Communion Sets, Candlesticks, Crosses & Crucifixes, Votive Stands, Devotional Items & Gifts, Tabernacles, Sanctuary Lamps, Monstrances, Thuribles, Oil Stocks, Pyxes, Cruets, Wafer Boxes, Advent Wreaths, Processional Crosses, Acolytes & Torches, Vats & Sprinklers, Alms dishes, Bells and all other brassware and silverware items.
Statuary
Glassfibre Statues, Carved Wood Statues, Crucifixes andCrucifix Figures, Stations of the Cross, Nativity Sets and Easter Garden Figures.
Furniture
Engraved Plates & Notice Boards, Lecterns, Book Stands, Priedieux, Hymn Boards, Incumbents Board, Thabors, Pedestals, Credence Tables, Chairs & Stools, Sedilia Sets, Altars & Communion Tables, Vestment Press, Fonts, Bookcases, Memorial Bookcase & Book, Literature Rack, Storage Cupboard.
Special Commisions/Bespoke Items
We are also able to produce items made to customers specifications, whether it be a textile item such as a chasuble or altar frontal, a metalware item such as a chalice or candlestick or a bespoke piece of furniture. Please contact our Sales Team with your requirements.
Repairs and Restorations of Church Plate and Brass
We are able to undertake the repair and restoration of most ecclesiastical metal items in our silver and brass workshops. This service includes silver plating and gold plating and the repair or replacement of damaged or worn components on plated or solid silver items, all carried out by our skilled craftsmen. We are also experienced in the repair and restoration of brassware of all types including re-polishing and lacquering.
Quotations are available completely free of charge but it is necessary for our workshops to view the articles before any quotation can be given.